Remodeling your kitchen is on your list of things to do, but just where do you start? Most homeowners will start in one of two places. They'll either looks at photos that inspire them or appliances that they would like. You may want to create more space, upgrade the current kitchen, or do something entirely different. In most cases, this stage takes about a year to finish before they look for contractors and kitchen designers.
So, now you're ready for getting started on the actual project. Just where do you start when it comes to finding people to help? Let's go through the important steps from start to finish to get you through your kitchen remodelling.
Step 1: Consider Your Needs
For this step, you want to think about the design and layout of your new kitchen. It's time to think of the things you need from it. Take a look at showrooms, have a flick through magazines, and browse online at kitchens.
List your priorities down. Is a place to cook the most important aspect or do you need a space to entertain guests? Are you looking to extend your current kitchen or change the way it currently looks?
When you find photos, save them. Put a kitchen remodeling album together—a sort of idea book to move forward with. It doesn't matter how organised it is, as long as it makes sense to you.
Step 2: Start With a Plan
Having a plan for your kitchen remodeling is great. This should also include a budget for it.
Do keep in mind that your plan and budget can change. Don't worry about it being set in stone for now. Your wants and wishes may change as you talk to contractors or finalise your dreams.
Research aspects of kitchen remodelling to help put together your plan of attack and the initial budget. You'll be able to work out whether your dreams fit the amount that you currently have saved and make changes early on if they don't.
Step 3: Contact Professionals
While you may want to do this by yourself, there will be certain aspects of this remodel that will require professionals. Unless you're a plumber and electrician, you'll need to get these two at least. And if you're not DIYing it, you'll want to look at the cost of remodelling experts and contractors to help with the rest of it. You could even benefit from an expert when it comes to wood choices for your floor or cabinets!
You could start by looking at those showrooms and big stores to discuss with the staff there. Another option is to talk to the people you know and findout if they recommend anyone.
Professionals aren't just there to help get your remodelling done quicker. They will help with contracts, permits, material choices, and realistic budgets. They know the right people for ordering products and have the experience to make sure the plan stays on track and within time constraints.
Step 4: Draw Out the Design
You can't just work with whatever is in your head. You'll need to think about sizing, placement, and much more. This is all within this phase of the remodel work.
It's tempting to start discussing what the room will look like, but think about the space and layout first. This is extremely important to start with. You can think about the details later.
This part will also help to layout your kitchen cabinets with current placement in mind. Think about where the piping is and any electrical needs, especially if you need to keep the costs to a minimum. You'll also be able to think about the materials to work out costs.
When hiring a contractor, this is the first stage he will be interested in. He wants to know what you want from your kitchen and what the goal for space and layout is. Once he has the basics, he can help determine whether it fits into your budget. The drawings can also help you get estimates from other professionals.
Step 5: Work on the Fixtures and Finish
Now that you have the basics, it's time to think about the finishing. Go back to that idea book and look at the different styles and tastes that you love. Do you want a traditional style kitchen or a modern option? Maybe you want something in between?
What type of finishes do you want? Wood, metal, bright colours?
You'll need to think about:
Countertops
Kitchen sinks
Appliances
Lighting
Cabinet materials and colours
Backsplash
And more
Step 6: Get Estimates in Writing
If you haven't already done this yet, it's time to get those estimates. Make sure you get them all in writing and get estimates from three contractors. This will help you find the better option and make sure that nobody is fleecing you. The last thing you want is a cowboy builder.
Contractors may want to do a preliminary walkthrough just to find out more about your goals. This helps them get an idea of time and needs.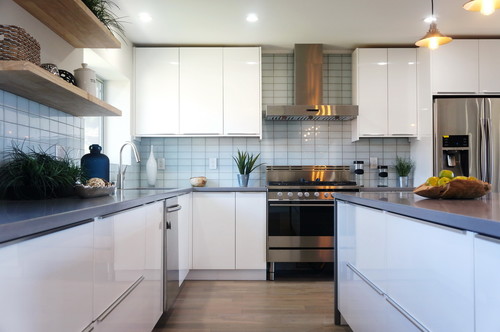 Step 7: Get Ready to Start
Now it comes to getting into the remodelling stage. You'll need to make sure the room is ready to start. This will depend on whether you're living in the home while it happens or moving out temporarily.
If living there, you'll want to set up some temporary kitchen cupboards in another room. Clean out your cupboards and put everything you can into storage somewhere. Organisation is important if you want to stay sane throughout all this. Moving out will be easier, but needs to be factored into the cost.
There are times that you'll need to be out of the house. Your contractor may also want you to visit for certain elements if you do move out. Keep the communication open and discuss what your contractor needs from you right now.
Step 8: Make Sure Everything Works
Once your contractor has finished, it's time to make sure everything is just right. There will always be elements that don't quite look perfect. You may find a wall needs touching up or a light switch doesn't work properly. There may be a scratch in your countertop or the hood isn't working.
Make a list of the problems and send it to your contractor. Some contractors will even have a form for you to fill out to make sure everything is just as you want.
You may find that the touch ups take a little longer than anticipated, but it's all worth it for the perfect kitchen remodel. Remain calm and know that it will all be organised in the end.